The abstract "Hua Yu On Arrow·July Festival" was held on July 25, 2014 at the Guangzhou Baiyun International Convention Center. Former British Prime Minister Tony Blair said in his speech that if there is no Chinese participation, many international...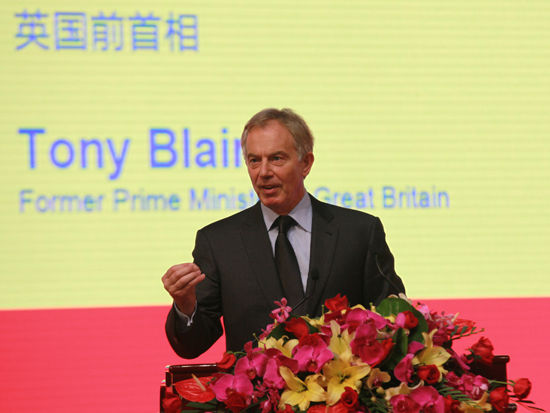 "Hua Yu On Arrow·July Festival" was held on July 25, 2014 at the Guangzhou Baiyun International Convention Center. Former British Prime Minister Tony - Tony Blair in his speech said that without China's participation in many international events is no way to be solved, whether it is economic, or security, China will undoubtedly play a central coordinating role of.

Regarding China's current reform policy, Blair commented that China's new leaders have brought about a new round of reforms, and should continue to strengthen the development mechanism to ensure that there are sufficient development steps, whether in the UK or in other European countries. Still in China, the pace of reform and the pace of internal adjustment are uninterrupted and must continue.

Blair also pointed out that Europe must reform public services, pension, medical care, public consumption and other systems.

Blair finally suggested that China should cooperate with the world to jointly address pollution and climate change issues. Increase the mutually beneficial investment between the UK and China. Share the fruits of technological innovation. Strengthen cooperation in the field of education. Strengthen interaction between senior government officials.

The following is a speech record:

Tony Blair: Good morning, everyone is very honored to be here to communicate with you today. First of all, I warmly congratulate China Pacific Construction Group for these achievements. Now it has become the world's top 500.

My speech this morning, I want to talk to you, not only in the great changes that have taken place in China over the years, but also to talk about the challenges and opportunities that the world has in front of us.

The last time I came to Guangzhou was 25 years ago. This time I saw a lot of changes. It was totally different from 25 years ago and today. What is the biggest change in the world. It is the huge development trend of globalization and the driving force behind it. Many regions have been rapidly transformed through technological innovation. We can clearly see that the development of Guangzhou proves this. Comparing today with Guangzhou 25 years ago, we will find that China has now become an important leadership force in the world. The economic development is changing with each passing day, and the people's living standards have been greatly improved. This process is just beginning and will continue. In progress, we move forward at a faster pace and pace.

25 years ago, we were still unfamiliar with what the Internet is. Now we have a very advanced technology platform. Today, the pace, scale and coverage of the process that the world has become moving forward are unprecedented and very rapid. This brought not only economic changes, but also such large-scale geopolitical and political changes. When I was in the British Prime Minister, G8 was an important international organization at the time, and now G20 is changing. As an important international organization in the world, in the process, without the participation of China, many international events cannot be solved. Whether it is economic or security, China undoubtedly plays a central coordination role. This is currently happening. The biggest change is also the huge situation that has taken place from the perspective of geopolitics.

The other impacts of this change, whether in the West in the developed world or in some developing countries in the East, we are faced with the challenge of reform, how to change the structure of the country from within, while balancing the development process of the country. The pressure on the external environment, some challenges in transformation, and so on.

In Europe, Europe is now facing other challenges after the single currency crisis. These challenges are seen on many levels and are currently facing some of the challenges China faces, or the challenges that the United States is now facing, so Europe now has to go through some systems of reform, such public services, pensions, health care, and public consumption. Wait, many European countries have to make profound reforms in their labor market, including industrial structures, especially in the UK. In the past 25 years, there have been many profound changes in the UK, and these changes are still going on, especially After the economic crisis, the impact of these changes has become more profound.

Now that Western countries have formed some degree of traditional mechanisms for so many years, now we need a more modern perspective to adjust our development releases and models, how to use technology and technology platforms to solve development problems, including the entire democratic level and The national management challenges, our population structure is undergoing profound changes. In the same way, in developing countries, we also have strong demands for reform and change, including some opportunities for China's new round of leaders to bring about a new round of reforms. We continue to strengthen development mechanisms to ensure that we have sufficient development. Pace, my point of view, in short, whether in the UK or in other European countries or in China, the pace of reform and the pace of internal adjustment are uninterrupted and must continue.

Let's take a look at India as a country. India also has a new round of leadership. The new round of leadership represents the interests of most people. This country feels it is necessary to carry out a new round of reforms and bring the whole country into a new In the development stage, in the era of such a profound reform, we must bear in mind what views.

First of all, we must recognize a need, how to build a strong global bond, let us stay together and better accept these changes. In the process of global economic development, there are many factors that hinder the connection between China and the world. The United States or Europe, such links may be reflected in the currency, may be reflected in trade, but if we do not If they are coordinated, these problems will never be solved. China and the West must have a good dialogue and solution mechanism on this issue. How to better deal with global pollution problems. I know that pollution problems in China are very much raised. China's climate change and its impact on global climate, we can not think about this issue alone, our perspective must be placed on the level of cooperation, China and the world to solve this problem.

Let us look at the issue of world security, the Middle East, some parts of Africa, including the central Asian region. If we want to completely solve all these international security problems, it is impossible to solve without any Chinese participation. Therefore, we must be soberly aware that everyone is trying to reform and change ourselves. We must consolidate and enhance this global synergy alliance to a higher level.

Second, we must see our market. We must recognize that the market is dependent on each other and grow with each other. In the UK in the past 18 months, we will introduce more investment from China. In the next 18 months, we will introduce more investment from China than the total amount of investment that China has introduced to China in the past 30 years.

I think that increasing bilateral mutually beneficial investment is a win-win situation for the two countries. It is not only to strengthen trade between China and the United Kingdom, but to liberalize this trade flow globally.

Third, we need to find some results that can share technological innovations, so that these results can reach people all over the world, and technology can transform our lives and move in a better direction. For example, we can change some ways of learning and cognizing the world through technology. This is actually a platform and channel for communication between China and the West and East and West.

In the field of education, I hope to see more extensive cooperation and closer cooperation between China and the Western world. I know that many students in China choose to study in the UK or go to other countries in Europe, including the United States. I hope to see To the reverse student flow, English and American students go to China to study Chinese, experience Chinese culture, and make friends with Chinese. At the top of the government, we need to strengthen interaction, but the benign interactions of senior government officials are not a substitute for non-governmental exchanges or unofficial folk-level interactions.

Finally, we must know that these changes and changes will bring many challenges. The world has undergone a lot of progress, especially in the past ten years. Next year, we need to further consider how to achieve the Millennium Development of the United Nations [microblogging]. In 2000, when I was the British Prime Minister, we have made a lot of progress in the realization of the United Nations Millennium Development Goals. The biggest progress we have made is to solve the problem of absolute poverty. We can achieve progress and cannot leave China's help. Looking at global history, no country has lifted so many poor people out of poverty in the past 30 years. While we need to be aware of the many challenges and difficulties that we have foreseen around us, we need to look back and look at our achievements and progress with an optimistic and positive attitude. I came to China for the first time in 1989. I have been comparing for so many years now. There are so many changes in China that have penetrated into all aspects, including people's way of life, people's way of thinking, and people's treatment of life. Attitudes have changed dramatically.

I know that the world will continue to move forward and will foresee more difficulties and challenges. We also need to be proud of our achievements, and this glory is that China leads the world in the 20th and 21st centuries. What he has achieved in the first place is not only economically and politically, but China's economic and political achievements must be recognized and recognized by the whole world. Don't regard China's rise as a threat, it must be seen as a The opportunity for the Chinese to get rich will have a positive positive impact on the world.

thank you all.

Hydraulic manifold is a manifold that regulates fluid flow between pumps and actuators and other components in a hydraulic system. It is like a switchboard in an electrical circuit because it lets the operator control how much fluid flows between which components of a hydraulic machinery. For example, in a backhoe loader a manifold turns on or shuts off or diverts flow to the telescopic arms of the front bucket and the back bucket. The manifold is connected to the levers in the operator's cabin which the operator uses to achieve the desired manifold behavior.

Manifold is composed of assorted hydraulic valves connected to each other. It is the various combinations of states of these valves that allow complex control behavior in a manifold.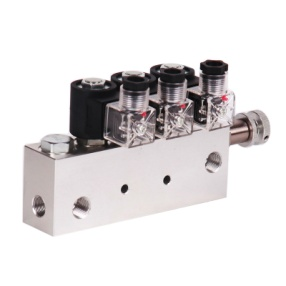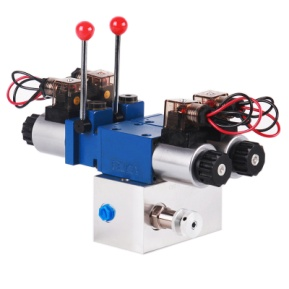 Hydraulic Manifold

Hydraulic Manifold,Pneumatic Hydraulic Manifold,Hydraulic Manifold Block,Hydraulic Valve Manifold

Jinan Longli Hydraulic Device Co.,Ltd , https://www.longlihydro.com